December 2010 Elections
Nomination acceptances were accepted through Monday, November 15th, but Campaigning commenced on Monday, November 8th.
The Voting Period lasted 2 weeks. Campaigning ended when the Voting Period ended.
Nominations
For the Office of General Coordinator:
Ashley Leighton Plom
Deborah Leighton Plom*
Robert Longtin*
For the Office of Technical Coordinator:
Euan Reid
Kevin Diamond
Deb Plom*
For the Office of Elections and Voting Coordinator:
Robert Longtin
Ashley Leighton Plom*
For any Office the Nominee Chooses:
Jason Andersen (chose to run for General Coordinator)
Deborah Leighton Plom*
Ashley Leighton Plom*
Robert Longtin*
William Smith*
Mischa Brendel*
Silent Hunter*
Mike Palmer*
Nick Buchanan*
Nick Palmer*
*Declined or did not confirm their nomination. Thus, they were not present on the official ballot.
Results
Results announced 2010-12-08 15:53:06
General Coordinator (GC): Ashley Leighton Plom
Contender: Jason Andersen
Technical Coordinator (TC): Euan Reid
Elections and Voting Coordinator (EVC): Robert Longtin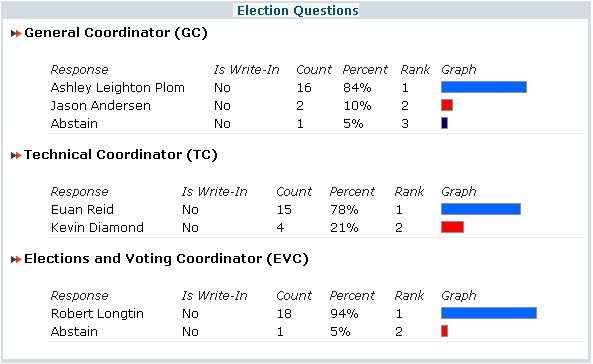 page revision: 1, last edited: 22 Apr 2011 00:41