Lady Miriam Koizumi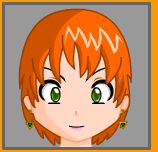 Lady Miriam "Mimi" Koizumi (nee Jackson) is the Major in charge of Publicity and Resources for Maczarek Security.
Aged 35, the busty redhead, third daughter of Thomas Jackson, Duke of Eavesdown, is a former lingerie model and pin-up girl who formed a friendship with Anna Maczarek during the U-War when they served in the same tank regiment, becoming one of the founding members of the Eagles of Warsaw.
She is married with four children and is currently carrying a fifth, all fathered by her husband of almost 16 years, Ayumu Koizumi.
GM Notes
Koizumi is well remembered in the Persephone area for her lingerie modelling career, where she combined a cute face, an aristocratic image and 34G breasts to great effect, gracing a fair few gentlemen's magazines and a lot of billboards. Possibly her most famous image was a centrefold for Hotties magazine where she trod water in a swimming pool wearing nothing but a Stetson, but she was also well known as the body of Gala lingerie for a while.
British GMs should think of Kelly Brook in her overall style, although not to the point that they walk into lampposts. American GMs can think of any particular well-known supermodel.
It's worth pointing out that while Mimi has retired from the modelling business to concentrate on her mercenary career and avoid embarrassing her children, she still wears sexy and at times daring outfits to social events.
She used to have long red hair before she cut it on her enlistment and left it that way.
page revision: 6, last edited: 15 Aug 2013 18:16