Tracey Novak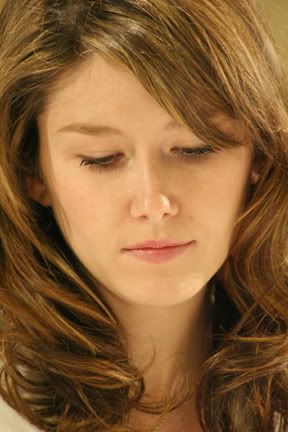 Name: Tracey Linda Novak (nee Brown)
Callsign: "Essex" (RAF) or "Duchess" (Canadian Air Force)
Rank: Flight Lieutenant
Position: Intelligence Officer and Commander of C Flight, 11 Squadron, Royal Air Force
Date and place of birth: 19 January 1985 (age 30), Canvey Island, Essex, England
Nationality: British Citizen
Description: A short, pretty brunette with a strong, rough Essex accent. Long brown hair, which is worn up in a military bun whenever in uniform.
Personality: A vivacious, life of the party woman, whose work hard, play hard attitude belies a keen intelligence and an excellent knowledge of fighter aircraft.
Operational Experience:
Exchange tour with Royal Canadian Air Force, 409 Squadron, Cold Lake AFB, November 2011 to October 2012, flying CF-188 Hornet fighters
Operation Herrick, Afghanistan, June 2013-March 2014
Baltic Air Patrol, Latvia, October-December 2014
Decorations:
General Service Medal - Afghanistan: Mentioned in Despatches
Aircraft current on:
Eurofighter Typhoon
Background:
Tracey Brown was born at home in January 1985, to Mark and Sarah Brown. Her father, Mark, was a plumber by trade and hoped for a son to teach the family business to. It was a real surprise for him when he got a daughter instead, but he was willing to give it a go.
Tracey hated the idea of plumbing from the get-go and eventually Mark gave up. However, another possible career opened up via Mark's older brother, Charles "Charlie" Brown, an RAF Tornado Weapon Systems operator who loved his niece and took her to air shows when he could. During one Red Arrows display in 1993, Tracey declared she wanted to be a pilot.
Joining her local Air Cadets (where she would get experience in gliders), the young girl worked hard in both that and school, eventually gaining a Duke of Edinburgh Award for the latter. As soon as she concluded her degree in History at the University of East Anglia in 2006 (gaining a 2.1), she signed up for the Royal Air Force.
The 30 weeks at RAF Cranbrook, undergoing initial training, were very tough - and she wasn't even flying at this point. She had to learn to be a soldier as much as a pilot, engaging in survival training, simulated military operations and other skills just as vital for her RAF role. There was a particular issue with the soldier part - as a left-handed girl, she had to use her weaker hand when firing the L85A2 assault rifle, as the weapon cannot be used left-handed without getting a face-full of hot casings.
Once she'd gained her commission, now Pilot Officer Brown began the two-year long process of actually learning to fly properly. From the Grob Tutor basic trainer to the Tucano lead-in trainer (after which she earned her "wings") to the Hawk jet trainer and eventually to the Typhoon Operational Conversion Unit, flying in the two-seater T1 trainer version of the RAF's newest jet fighter. During this time, she flew in simulators and with instructors, learnt the theory and history of air power and also had to learn the breathing techniques to enable her to stay conscious during high-G manoeuvres. The last one was the hardest by her own admission: her trips on the centrifuge ended up with her "doing the funky chicken" on several occasions as she convulsed after blacking out as the blood drained from her head. This proved a sufficient concern for her constructors they actually asked her if she wanted to drop out and go for multi-engine aircraft instead. She declined, worked on it and eventually passed the G-tests.
Overall, her performance was very good and she just missed out on being offered an instructor position. Not that she would have wanted it anyway.
In November 2009, she joined XI Squadron, her operational unit and became a Flying Officer. After six months of further training, she was declared Combat Ready. Her time in the squadron involved training, two trips to the Red Flag exercises (with associated trips to Las Vegas, where there was a memorable incident involving a bed sheet) and pulling Quick Reaction Alert duty. The last meant having to take off at a moment's notice to intercept suspect aircraft in the UK's air defence area; which more often than not turned out to be Russian "Bear" and "Blackjack" bombers on long-range patrols. She missed out on Libya; more experienced pilots were sent instead.
In November 2011, she went to Canada on a year-long exchange tour to fly CF-188 Hornets, the Canadian version of the F-A/18. This role involved more QRA (with associated Russian bombers) and the worst moment of her career.
During a training dogfight in August 2012, her wingman got confused in spatial orientation and turned into her aircraft, resulting in a mid-air collision that wrecked both of them. She ejected with only minor injuries, but he was killed. While the subsequent investigation cleared her of all blame, she still feels guilty about it to this day.
After returning from Canada, she had to call a plumber to fix a leak; his name was Marek Novak. She made up another leak to get the cute Czech back to her house and the two soon started dating. Just before she deployed to Afghanistan in June 2013, he proposed to her, with the wedding date set for her return.
XI Squadron spent six months in Afghanistan; providing support to ISAF and Afghan forces on the ground. They participated in two major offensives and in total, Tracey dropped 22 bombs in anger. She was highly regarded by Forward Air Controllers and was Mentioned in Despatches as a result.
She arrived home, got married in her local church in April 2014 and, yes, had "Take My Breath Away" as the first dance. After a honeymoon in Malta, she returned to duty and got a promotion - to Flight Lieutenant. Later that year, she would be part of a four-aircraft group sent to Lithuania to perform that more QRA as part of the rotating Baltic Air Patrol for the three Baltic States.
Now back home, Flight Lieutenant Novak has recently taken on the role of the squadron's intelligence officer; monitoring unclassified and classified sources for relevant information to the squadron.
page revision: 0, last edited: 27 Jul 2012 16:20